News
---
On October 7, Professor Stephen Pisano, SJ, Rector of the Pontifical Biblical Institute in Rome from 2002-2008, passed away. Prof. Pisano was a member of the Nestle-Aland and the UBS Greek New Testament editorial committee since 2011. We are grateful for his years of cooperation in preparation for the NA29 and UBS6. The committee has lost a member who was extremely competent in all things text-critical and who always approached discussions with friendliness and determination. In grateful memory of a lovely colleague and friend
Holger Strutwolf
Klaus Wachtel
---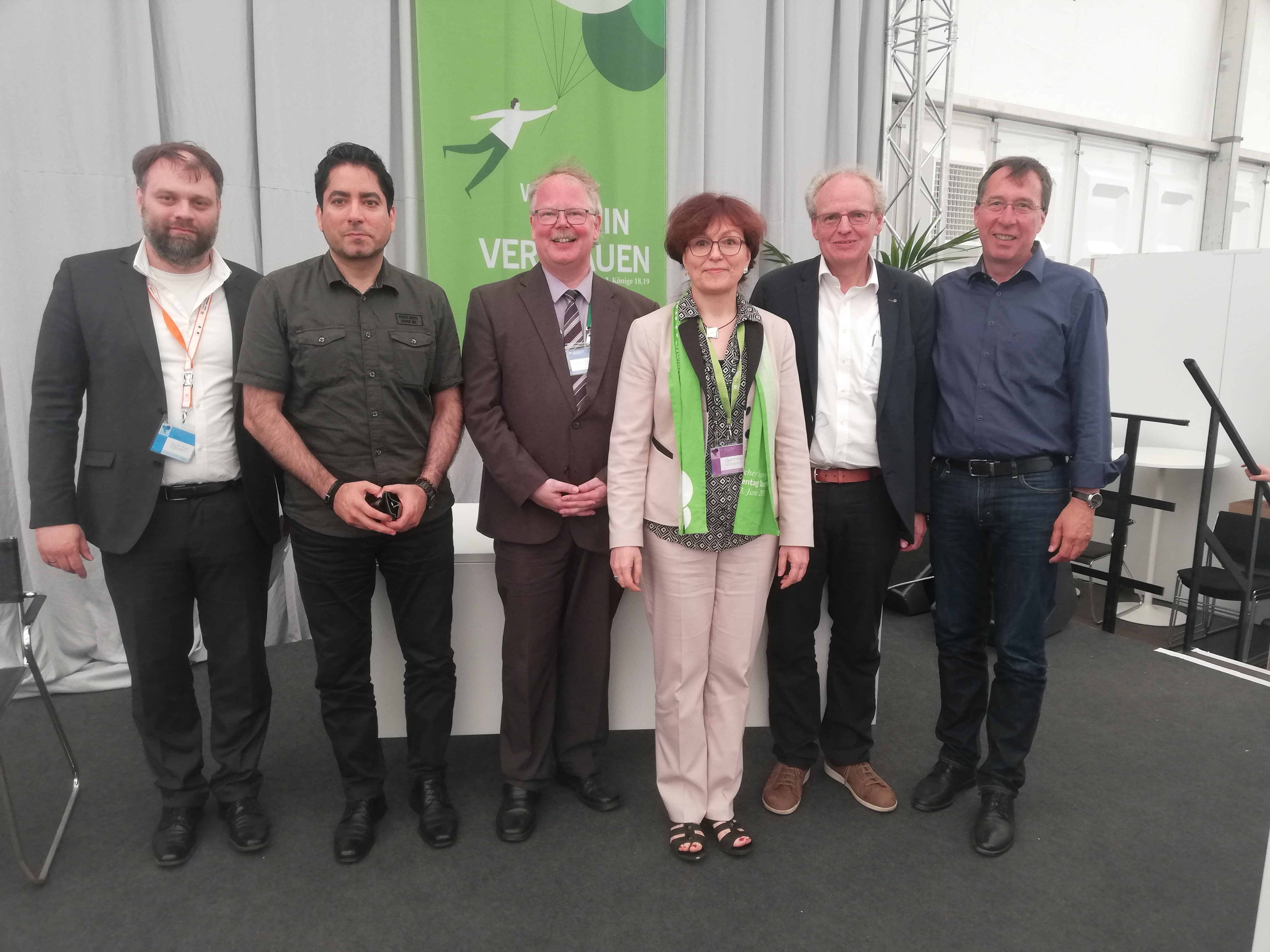 Many thanks for an interesting and exciting panel discussion on the theme Sacred Texts: Eternal Truths, which Prof. Wolf, Prof. Maier, Prof. Strutwolf and Prof. Khorchide discussed at the Kirchentag 2019 in Dortmund. Jan Graefe was the moderator and Thomas Drope was the audience representative ("Anwalt des Publikums"). Thank you also to the audience of 800 who raised many important questions.
The panel discussion:
For Christians, Jews, and Muslims, the Bible, the Qur'an as well as dogmas and doctrinal decisions constitute sacred and thus binding texts in which eternal truths are laid out. They are "God's word in human words" because for human beings they are only understandable as such. The result is an exciting paradox: eternal truths can only be obtained through the contingent medium of human language and are thus subject to its laws. Texts do not fall from the sky; despite their inspirational and revelatory nature, they have complex historical origins and an equally controversial history of development and interpretation. Sometimes the transmission history is so confusing that it is difficult to reconstruct a source text. Therefore, like with all human texts, philological and historical-critical methods are applied to these sacred texts as well.
---
Prof. Dr. Holger Strutwolf, Director of the
Institute for New Testament Textual Research — INTF
gives updates about the Nestle-Aland 29 and UBS 6 at SBL in Denver.
---
ECM Acts published
We finished the Book of Acts! The Editio Critica Maior vol. III has been published summer 2017 by the
German Bible Society
.
---
ECM–Meeting in Wuppertal
From October 11th to 14th the ECM meeting 2016 took place in Wuppertal, Germany. Thirty participants from four countries discussed the state of work and planned the further advance of the project. The Editio Critica Maior (ECM) is the large edition of the New Testament initiated by the Institute for New Testament Textual Research (INTF). Since 2007 this project is funded by the Northrhine Westphalian Academy of Science and Arts as a long term project.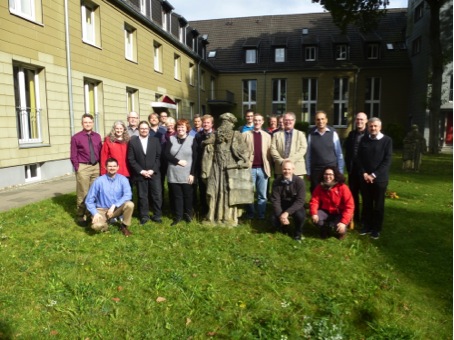 ---
Burkitt Medal for Barbara Aland
The former director of the Institute for New Testament Textual Research (INTF) at Muenster University, Prof. Barbara Aland, got the Burkitt Medal for Biblical Studies:
"The 2016 winner is: Professor Dr Dr h.c. Barbara Aland (University of Münster) for her significant contribution to New Testament textual research." (British Academy).
The Burkitt Medal for Biblical Studies – named after its founder Prof. Francis Burkitt – is awarded by the British Academy since 1923 in recognition of special services of Hebrew Studies and New Testament Studies.
Prof. Barbara Aland has been director of the INTF, which was founded by her husband Kurt Aland, from 1983 to 2002 at the University of Muenster.
http://www.britac.ac.uk/prizes-and-medals
---
On 9/23/2016, 11:14, the Amsterdam Database of New Testament Conjectural Emendation was launched in the NTVMR http://ntvmr.uni-muenster.de/nt-conjectures.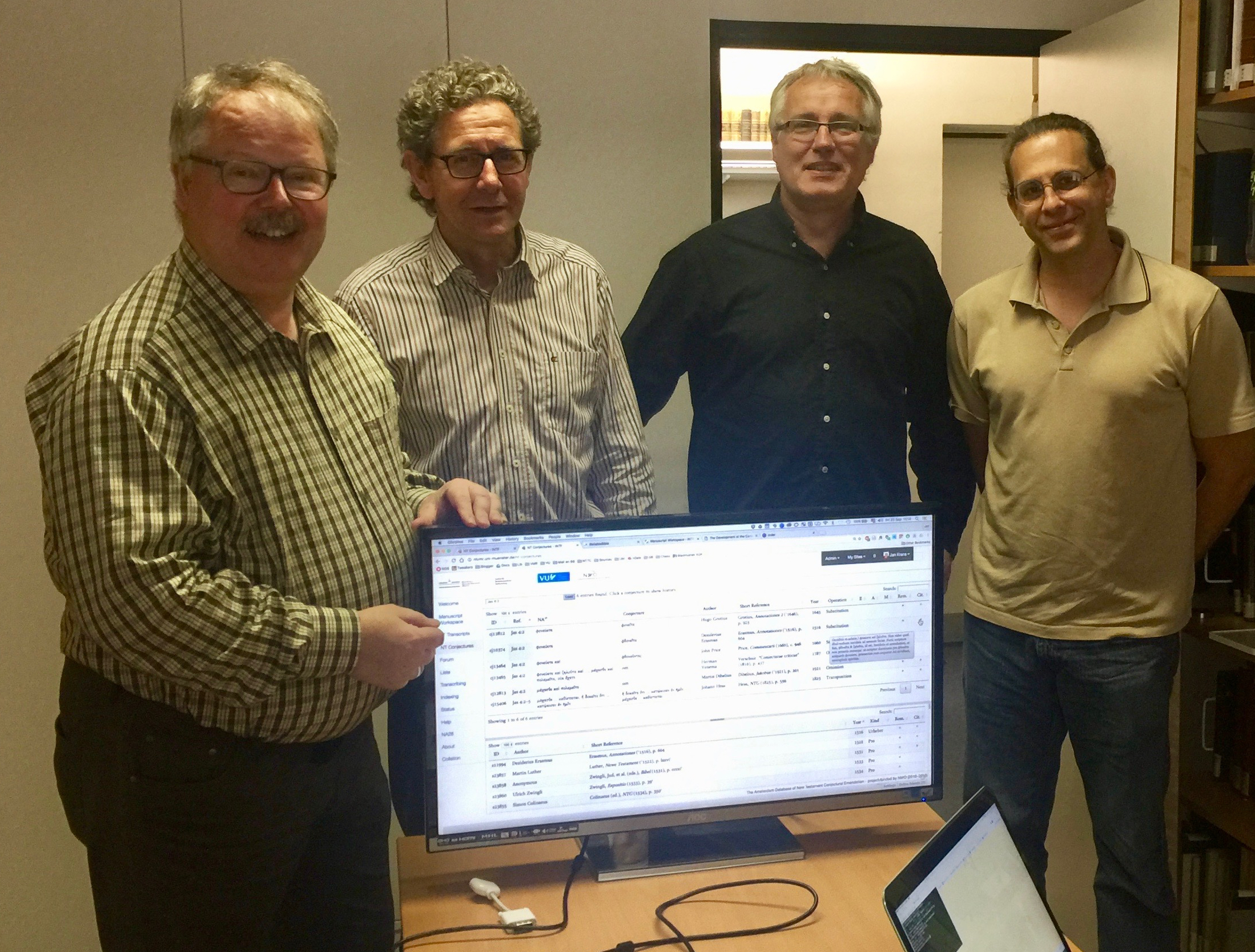 Photo: (from left to right) Holger Strutwolf, Klaus Wachtel, Jan Krans, Troy Griffitts.
The database which currently comprises 6,047 conjectures was produced by the research group New Testament Conjectural Emendation at the VU University Amsterdam. The researchers involved in this project are Jan Krans, Bert Jan Lietaert Peerbolte, Silvia Castelli and Bart Kamphuis.
In February 2016 the Editorial committee of the Nestle-Aland and the Greek New Testament met in Athens.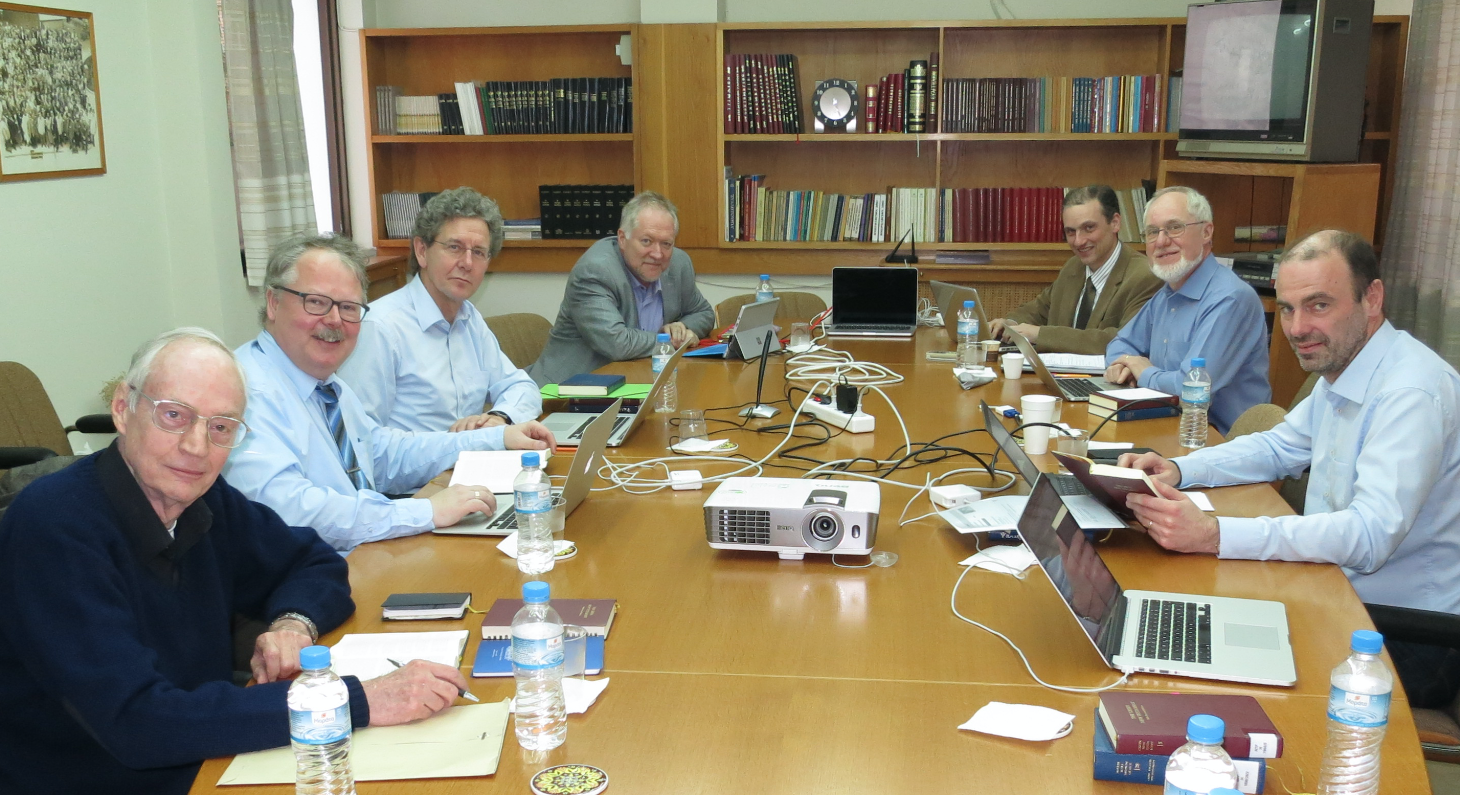 Photo: left (from rear to front) David Trobisch, Klaus Wachtel, Holger Strutwolf, Stephen Pisano; right (from rear to front) Christos Karakolis, Simon Crisp, Florian Voss. Photo made by Greg Paulson.
In the same time the International Conference for the New Testament Textual Criticism took place at Athens university. Committee members presented their papers to an international audience. Link
A lighthouse of Muenster University
Press release
Westfälische Nachrichten
21. April 2015
Ceremonial act in honour of Kurt Aland
10. April 2015
Bible museum receives 16th century bible
Press release
2. October 2013
Minister-President Hannelore Kraft visits the INTF




Press release
20 September 2013
Präses Annette Kurschus visits the INTF and the Bible Museum
Press release
13 September 2012
Nestle-Aland28 launched.




Prof. Dr. Holger Strutwolf (center) together with the assistant editors Dr. Beate von Tschischwitz, Dr. Klaus Wachtel, Dr. Marie–Luise Lakmann, Luc Herren.
Press release
13 July 2011
Prof. Barbara Aland got Federal Cross of Merit
19 April 2011
A preliminary excerpt from the ECM apparatus was published here as a companion volume to the essay by G. Gäbel, "The Text of P127 (P.Oxy. 4968) and its Relationship with the Text of Codex Bezae," published in Novum Testamentum 53, 2011, 107-152.
Continuation of the Kurzgefasste Liste
The addition to the manuscript list is available in PDF format. It can be reached by using the following link: Kurzgefaßte Liste der griechischen Handschriften des Neuen Testaments.
Editio Critica Maior: Addenda et Corrigenda
The "Addenda et Corrigenda" can be reached by using the following link:
Addenda et Corrigenda
The Coherence-Based Genealogical Method (CBGM) - Introductory Presentation by Gerd Mink
Download here (16 MB). Please pay attention to the readme file!